Realistic Ways To Boost Performance Of The supply chain
Your inventory management and overall business strategy depend heavily on the supply chain. By decreasing wait times for popular products, an effective supply chain can help your firm save money and boost customer satisfaction. In essence, it gives you a genuine advantage over rival businesses in your sector.
However, an inefficient supply chain can be a significant drain on your resources, so it's critical to proactively plan for a lean and economical supply chain. Here are some management hints to help you get the most out of your internal workforce, external suppliers, and logistical companies.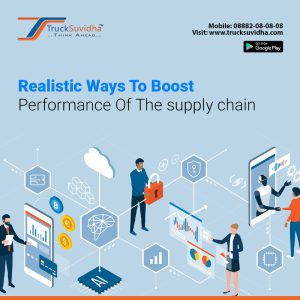 Review your supply-chain strategy.
Lean, affordable, and reliable are characteristics of successful supply chains. Reevaluate your supply chain strategy and goals to make sure you're employing the finest possible approach for your organization if you want to keep your supply chain costs low and your process reliable.
Automate the Process of Your Supply Chain
Supply chain automation is the process of using digital technology to improve productivity, integrate applications, and simplify processes within supply chain operations. Artificial intelligence, robotic process automation, digital process automation, and machine learning are examples of intelligent technologies that are frequently employed.
Increasing Supply Chain Visibility
Make sure your business is adaptable and nimble so that it can handle unforeseen circumstances. Organizations can improve their scalability and adaptability by arranging their priorities. This requires realigning processes and supply lines to prepare for the unexpected. This can be accomplished by rapidly testing and deploying blockchains and the Internet of Things (IoT), all of which are technologies and techniques that can be leveraged to construct a future-proof supply chain system.
Bottomline
Improving supply chain sustainability, and facilitating the flow of information throughout your organization can all help to save costs and increase customer satisfaction. If you want to develop an effective supply chain, you must consider the effects of modifying your supply chain management system on operating costs, service delivery, working capital, and, most importantly, corporate income.
Visit www.trucksuvidha.com for more details.