On-demand logistics is poised to revolutionize the delivery experience.
In our pandemic-ridden world, on-demand logistics has become a catchphrase. It is not far off that drone deliveries will be possible within 30 minutes of orders being placed online.
With its rising relevance in today's pandemic-ridden world, on-demand logistics has developed dramatically over the last few years and has become an industry term.
Adopting on-demand logistics has a number of benefits over traditional logistics, with lower operational costs and a smaller environmental impact being two of the most alluring. The broad use of digital technology, paperless billing, and efficient delivery methods are just a few of the practical elements that enhance both the final product and the entire process.
With a mobile-first strategy and technology at the center of all operations, third-party logistics (3PL) companies are embracing the gig economy to deliver high-quality on-demand services.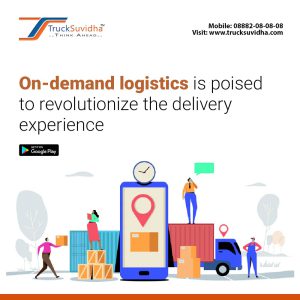 Opportunities for progress and difficulties
Traditional logistics methods are still used in many parts of India, although India continues to face a number of difficulties. The greater overall cost of ownership, the unnecessary amount of paperwork, and the unreliable/unpredictable service-level agreements (SLA) for deliveries are some of these difficulties.
Most notably, traditional logistics rely heavily on assets, which either results in under- or overusing assets depending on demand fluctuations or heavy wear and tear on assets to achieve key performance indicators.
These difficulties, along with different consumer expectations, have made it possible for on-demand logistics providers to completely transform the delivery process.
Today's on-demand logistics aims to offer consumers a wide range of goods, from groceries to consumer electronics.
The logistics sector has been working around the clock to go above and beyond expectations even amid the trying times of a worldwide pandemic.
Conclusion
With the same-day delivery experience no longer restricted to necessities and convenience emerging as a crucial customer value, last-mile logistics has entered a new era. Therefore, for emerging e-commerce platforms as well as other small and medium-sized businesses to deliver items in a dependable and seamless manner, on-demand logistics services are essential.
Visit www.trucksuvidha.com for more details.