Transport Corporation of India thrives on automotive segment's impressive performance, boosting supply chain dominance
The contribution of roughly Rs 1000 crore to TCI's overall revenues of Rs 3,800 crore in the previous fiscal year of FY23 demonstrates the significant value that the automotive industry provides.
In a bid to combat the hurdles arising from headwinds in its lucrative sea and freight operations, Transport Corporation of India's (TCI) has found solace in the robust performance of its automotive segment, which accounts for approximately 70–80% of the company's supply chain business.
TCI, a leading integrated logistics company in India, reported a consolidated net profit of Rs. 83.2 crore in Q1 FY24, up from Rs. 78.6 crore in the corresponding period last year, marking a year-on-year increase of 5.9%. Its consolidated income from operations was Rs. 958.3 crore in Q1 FY24, a 5.5% increase year on year.
During this time, the company witnessed significant growth in its supply chain division revenues, which surged by approximately 21.3% to Rs 346 crore during the stated period. However, the company's high-margin sea business experienced a decline of 19.3% in Q1 FY24, amounting to Rs 117 crore. TCI's freight division, which continues to be the company's main business segment, showed a moderate increase of 4.6% to reach Rs 393.6 crore, with seasonal factors primarily affecting its performance.
The contribution of roughly Rs 1000 crore to TCI's overall revenues of Rs 3,800 crore in the previous fiscal year of FY23 demonstrates the significant value that the automotive industry provides.
Additionally, Transystem Logistics International Pvt. Ltd. (TLI), a strategic joint venture between TCI and its partner Mitsui, has consistently delivered impressive results within the automotive segment. In Q1 FY24, TLI experienced a remarkable surge of 57.6%, achieving revenues amounting to Rs 225.3 crore. The company's net profit for the same period reached Rs 33 crore. The investor presentation further revealed that TLI's revenues in the previous fiscal year witnessed a substantial growth of 42.2%, reaching Rs 692 crore.
TLI provides comprehensive logistics solutions to Japanese automotive manufacturers and suppliers operating in India. These solutions encompass a range of services, including IBL for the seamless delivery of production parts on a just-in-time basis, OBL for efficient warehousing and the timely distribution of spare parts for after-sales service, as well as CKD container transportation, among others.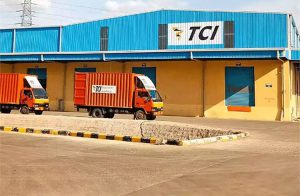 According to Vineet Agarwal, the Managing Director of TCI, the company anticipates a steady growth in the automotive segment, projecting a year-on-year increase of 10-15% in the current fiscal year. This optimistic forecast highlights the company's confidence in the potential of the automotive industry and its commitment to capitalize on the emerging opportunities within this sector.
TCI, a seasoned player in the automotive industry spanning multiple decades, offers an extensive range of services to a wide network of stakeholders, including original equipment manufacturers (OEMs), component suppliers, and dealerships. Expanding further, Vineet Agarwal, the company's representative, elucidated the intricate logistics involved in the automotive sector. Throughout the nation, strategically placed warehousing hubs and, in some cases, direct delivery help to seamlessly facilitate the last-mile delivery of goods relevant to this industry across various locations via railways and roads. The company claims to have established a formidable presence in the past several decades across various segments, including two-wheelers, three-wheelers, four-wheelers, commercial vehicles, tractors, and earthmoving equipment companies.
In addition to its domestic operations, TCI is actively engaged in the intricate logistics of importing and exporting auto parts globally, encompassing both finished goods and completely knocked-down (CKD) vehicles. The term CKD pertains to vehicles that are disassembled into parts, shipped to a different country, and subsequently reassembled at their destination.
TCI's executives emphasised that the magnitude of these opportunities should be evaluated within the context of India, the world's fourth-largest automotive market. Despite its large population, vehicle penetration remains relatively low, presenting significant room for expansion. For instance, in the four-wheeler segment, vehicle penetration in India stands at a mere 3%, contrasting with China's 22% penetration rate. The burgeoning middle-class population and the ongoing development of infrastructure are expected to further stimulate vehicle sales in India, providing an additional boost to TCI's growth prospects.
The automotive industry is a major driver of the global logistics market and the Indian logistics industry, which currently stands at about US$ 15 billion and is expected to grow at a CAGR of 10–12% in the coming years. A surge in e-commerce, infrastructure development, and the increasing importance of supply chain management are slated to bolster the growth of the Indian logistics industry.
Increase in capex for auto logistics
Regarding the CAPEX plan, which is estimated to be approximately Rs 375 crore for the ongoing fiscal year, Vineet Agarwal emphasised that a portion of this investment will be allocated to expanding capabilities within the automotive segment.
At present, TCI operates three automotive rakes dedicated to transporting finished goods. Complementing this, the company frequently procures a substantial number of rakes from the open market to ensure a consistent daily loading capacity of 2–3 rakes.
Agarwal went on to reveal that TCI has intentions to augment its fleet further by adding another dedicated rake by the conclusion of the current fiscal year. Simultaneously, the company is actively increasing its truck fleet, either by replacing older vehicles or adding new ones.
In conclusion, going forward as the freight services business is poised to reap the rewards of transitioning from unorganized sectors to more organized ones, fostering a favorable environment for growth. Meanwhile, the supply chain division is expected to maintain its upward trajectory, propelled by the thriving automotive sector. However, the company's highest margin segment, Seaways, is projected to experience a stagnant phase in FY24, as the awaited addition of a new ship is yet to materialize.
TCI has adeptly tackled the challenges stemming from headwinds in its sea and freight operations by capitalising on the impressive performance of its automotive segment, which constitutes a substantial portion of the company's supply chain business. By strategically leveraging this stronghold, TCI has not only weathered the obstacles but has also positioned itself for sustained growth and profitability in the fiercely competitive transport industry.
Read more at-https://shorturl.at/iCDFQ