Responsibilities and Significance of Customer Service in Logistics
What is vital to you when making an order with a logistics company? The solution is simple: on-time cargo delivery, good customer service, and a reasonable price.
Customers are more sensitive to customer service nowadays, in a more competitive industry, since they are searching for a partner who can understand their demands and address any concerns.
The employees of a reliable logistics company will help you at every turn of the road, from placing an order to cargo delivery, and will be able to transport goods on time and at the lowest cost feasible.
In this article, I will explain logistics customer service, its function, and how to enhance it.
What is Customer Service in Logistics?
The process of providing happy experiences along the supply chain of goods and services refer as customer service logistics. The service logistics arranges the movement of materials and information inside a corporation in accordance with predefined protocols. Its primary responsibilities include receiving, storing, and delivering items, ensuring the proper flow of purchases and sales, and managing internal transportation.
Even though it was never established, a corporation has always had a "logistics" department. The department is in charge of receiving and shipping products into and out of the warehouse. Its operations are primarily administrative in nature and are mainly carried out by more modest staff who have no direct touch with clients.
To give a great service, the logistics department requires that all workers have a broad understanding of how the organization operates, what sort of activity they undertake, and the cycles they go through to fulfill client deadlines. It is also necessary to understand the distinction between customer and client in order to provide individualized service.
Customer service's primary purpose in logistics is to resolve customer concerns after the transaction and ensure that they are happy with the delivery. The customer care staff will assist clients with any questions they may have concerning their orders. It is a department that plays an important role in logistics and aids in the development of long-term client connections.
While delivering deliveries, businesses must consider the happiness of their clients. Customers may have second thoughts and may not trust them as much as they would want if they fail to do so. A lack of adequate customer service during delivery might result in poor evaluations on social media sites, which can harm a company's reputation.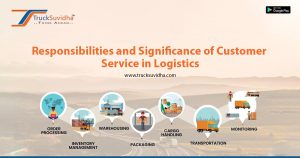 The Importance of Customer Service in Logistics
The importance of customer service in logistics is typical to practice for firms to give customer service as a means to an end: delighting consumers in an effort to decrease churn, boost retention, and assure future business. Yet, customer service should be a company's first focus.
Let's go through some of the essential topics to see why customer service is so crucial in logistics.
It aids in the development of customer loyalty
To earn client loyalty, you must first understand what your consumers desire. They want to get treated with dignity and to know that they are being heard.
People inform other consumers about poor or excellent customer service. It might be frightening as a business owner to consider how much it depends on your customers' experience with your company.
It improves brand reputation
Good customer service is mainly reflected in how businesses treat their consumers. Not only is it a crucial component of the business, but having a good reputation is much more critical when you have a brand.
The customer experience is critical to portraying your product as high-quality, which is why it is equally critical to ensure that your previous and current customers are providing favorable reviews on social media.
Hence, keep in mind that until your customer service is exceptional, you will not have a good reputation, which is the most crucial component of any business nowadays. Customer service should be prompt, pleasant, helpful, and dependable.
Close More Transactions
How many times have you utilized a firm just to get disappointed with the service, making you regret your decision? Regrettably, not every consumer receives exceptional service (ECS). Yet, exceptional customer service may make or break whether someone becomes a client for life.
Good customer service aids in the closing of more agreements. It is more than simply providing service; it is about developing a relationship and truly interacting with the consumer.
Conclusion
Excellent customer service ought to come first, not last. Take use of technological advancements like collaboration software, artificial intelligence, robots, and data analytics if you want to offer better client services.
Recall that word of mouth about your company spreading quicker than any of your fleets as a trustworthy and client-focused logistics supplier. Before to any other part of your business, pay attention to it.
Visit trucksuvidha.com now!!