CV industry volumes to grow 7-10% in FY24 : ICRA
Overall, ICRA expects the credit profile of CV OEMs to improve steadily going forward due to improvements in profitability supported by operating leverage benefits and no major capital expenditure plans.
Driven by replacement demand, pick-up in mining, infrastructure, and construction activities, and overall healthy fleet utilisation levels, the domestic commercial vehicle industry is expected to grow by 7–10 percent in the ongoing fiscal year, as per an ICRA report.
This is despite the 5 percent year-on-year and 41 percent sequential contraction in volumes in April 2023 due to expected price increases with the transition to BS VI phase II and associated pre-buying in March 2023, the rating agency noted.
ICRA further stated that the growth in FY24 would follow a year of healthy demand in FY23, wherein industry volumes expanded by more than 33 percent, supported by a favourable base as well as a healthy pick-up in macroeconomic activity.
According to Kinjal Shah, Vice President & Co Group Head, Corporate Ratings, ICRA, the major impact of the scrappage policy is expected in the CV segment, especially passenger carriers, as the usage of other vehicles such as two-wheelers, passenger vehicles, etc. beyond 15 years would be limited.
The scrappage policy, which was announced in March 2021, has been implemented as of April 1, 2023, and is likely to contribute to the growth of new CV sales. It is being implemented in phases, primarily with a view to reducing the carbon footprint. In the first phase, it has been proposed to mandatorily scrap government vehicles older than 15 years from April 1, 2023, which has a potential to replace about 9 lakh vehicles.
The second phase mandates scrapping based on vehicle fitness. Accordingly, heavy commercial vehicles (HCVs) older than 15 years and other vehicles older than 20 years need to undergo a mandatory fitness test starting October 1, 2024. Although voluntary in nature, several measures have been proposed to incentivise scrapping of older vehicles – including a hike in fitness certificate, renewal fees, and the levy of a green tax on older vehicles, increasing their cost of ownership. Further, on submission of the scrapping certificate, new vehicle purchases would be eligible for discounts from the OEMs, road tax rebate, and registration fee waiver.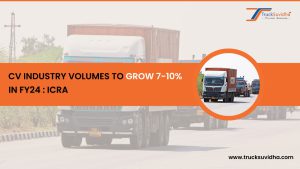 "ICRA estimates the population of medium and heavy commercial vehicles (M&HCV) older than 15 years at about 1.1 million units currently, offering significant potential for scrappage. However, given the nature of the usage of such vehicles, the actual scrappage could possibly be lower due to a significant portion of used CVs and older trucks in the overall mix, which are used in the hinterlands for short-haul operations by small fleet operators. Nevertheless, even if a proportion of these vehicles get scrapped, and with the mandatory scrapping of the Government vehicles, it can offer a fillip to new vehicle sales by spurring replacement demand. Moreover, it would drive additional benefits like stimulating modernisation of the fleet in the country, improving fuel efficiencies, and reducing pollution and raw material costs through metal recycling going forward," Shah added.
Among the various sub-segments, ICRA expects the M&HCV goods carrier segment to report a growth of 8-10 percent in FY2024 after closing FY2023 with a robust rise of 40 percent. The segment volumes would continue to be supported by the stable macroeconomic environment, Government push on infrastructure development, and the consequent higher freight availability, as well as an element of replacement demand.
For the light commercial vehicle (LCV) goods carrier segment, while demand would continue to be led by the increased requirement for last-mile transportation from the e-commerce segment and healthy demand from agriculture and the allied sectors, the growth momentum is likely to moderate to 4-6 percent in FY2024 from 23 percent in FY2023 as the base effect catches up. Volumes declined in April 2023, primarily due to the high base effect and on the back of concerns of a possible El Nino condition.
The passenger carrier or bus segment volumes would see a higher growth momentum of 12-15 percent in FY2024, after closing FY2023 with 2.6x volumes in the previous year, with the low base, opening up of offices and educational institutes, and replacement demand supporting the growth optically. In FY2024, the segment volumes are also likely to be supported by the mandatory scrappage of government vehicles older than 15 years.
Overall, ICRA expects the credit profile of CV OEMs to improve steadily going forward due to improvements in profitability supported by operating leverage benefits and no major capital expenditure plans.
Read more at-https://bit.ly/3pIgbYl