Tata Motors remains upbeat on robust CV demand despite moderation in GDP forecasts
The company is optimistic about the overall CV demand in FY24 despite near-term challenges in interest rates, fuel prices, and inflation.
Even though various financial institutions have reduced their GDP forecasts for India for FY24, PB Balaji, Group Chief Financial Officer, Tata Motors, believes that the commercial vehicle (CV) segment remains in a good position in terms of growth due to several key indicators such as economic growth, GST collection, infrastructure development, and vehicle replacement demand, among others. 
"There are enough reasons to be optimistic, though I get the sentiments of the overall GDP. We obviously must be cautious. Right now, it is more about ensuring that we keep the demand going than worrying about what will happen to it. That is normal business in any case," he said.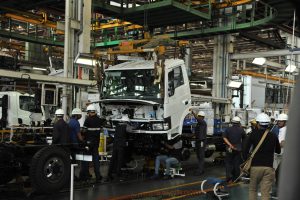 According to the World Bank, the country's real GDP is expected to decline from 6.9 percent in FY23 to 6.3 percent in FY24 due to the lag impact of monetary policy tightening, increased growth uncertainty, and reduced government spending. This may lead to local consumption constraints. The World Bank also warned that lower-income consumers' spending will be hit in FY24 due to slower income development. Also, any weather-related shocks, like too much or too little rain or changes in temperature, will put more pressure on the RBI to raise interest rates. The ADB, on the other hand, said that any worsening of the geopolitical situation is likely to put more downward pressure on global demand and increase uncertainty, which could slow India's growth rate and drive-up inflation. It stays more lenient on domestic prospects, predicting strong growth in FY24 and FY25.
The company's management continued to say that the advance buying in Q4 FY23 in anticipation of price hikes post BS VI Phase II will have a near-term impact on demand. With the government's continuing thrust on infrastructure development, it remains optimistic about the overall CV demand in FY24 despite near-term challenges in interest rates, fuel prices, and inflation. "We will continue to drive our demand-pull strategy and drive customer preference through innovation, service quality, and thematic brand activation. We will aim for higher realizations and cost savings to secure double-digit EBITDA margins for FY24 and improve the performance of all business verticals," the company said in a statement.
According to the company, the CV industry kept growing in FY23 thanks to strong demand for MHCVs and the CV passenger segment's recovery. The government's aggressive infrastructure push necessitated a high demand for heavy trucks, and increased activity in e-commerce, construction, and mining also contributed to the growth of MHCV. Demand for small and light commercial vehicles continued to be impacted due to high-interest rates and the high base effect. CV exports remained subdued due to the prevailing economic situation in most of our overseas markets.
Read more at-https://bit.ly/41RZ7MS