Significance of Data Security in the Supply Chain
The integration of digital technologies and automation into the transportation and logistics sector has brought about a number of advantages but also made it a prominent target for cybercriminals. The risk of cyber security risks is rising as more elements of the supply chain interface with the cloud. The potential for security concerns for customers and enterprises has expanded with the integration of conventional IT systems with disconnected OT systems and the expansion of connected endpoints via IoT. Due to the engagement of several stakeholders and outside vendors, the logistics industry is particularly vulnerable. Many businesses don't have a thorough understanding of how to control the risks associated with digital rewards.
Suppliers are the weak links in organisational security, and cybercriminals are continually refining their techniques and taking advantage of these weaknesses. With weakly secured suppliers, these assaults can enter even the most secure enterprises, harming not only the initial vendor or supplier but the entire network.
What Is Data Security in the Supply Chain?
Cybersecurity and data security solutions are essential to supply chain management. The risk associated with the management of external suppliers, customers, carriers, vendors, 3PLs, and drivers is the main emphasis of these measures. Identifying, analysing, and reducing the risks of conducting business locally and internationally through the digital supply chain network is the ultimate purpose of freight and audit data security measures in the modern supply chain. Software is not all created equal. Each shipper is accountable for its upkeep as well as the safety and security of the data and information stored therein and used on a regular basis.
Why Data Security Is Valuable?
In addition to lowering the danger of cyberattacks, improved data security in the supply chain can also assist decrease and control expenses. Management can protect against lost products, downtime, compromised data, lost proprietary information, and loss of consumer trust by limiting exposure to risks and assaults. Subpar data security in the supply chain can be fairly expensive on average. 
The supply chain network can get protected from risks including system hacks, data breaches, malware and ransomware attacks, service interruptions, financial fraud, and more by implementing well-balanced and modern data protection technologies. Making the best judgements possible requires using data, cooperating with thoroughly vetted parties, and gathering relevant logistics intelligence.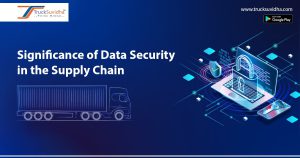 How to Make Sure Your Software Suppliers Emphasize Data Security?
Data security in the supply chain must be the top priority by software providers, team members, and 3PLs engaged in everyday operations if success and expansion are to continue. Consider the following advice to look for areas that may get improved upon and to make sure that everyone takes cybersecurity and data security seriously:
Make sure you are dealing with the finest of the best by thoroughly screening potential business intelligence and analytics vendors.

Make sure team members are aware of how your systems link, whether it be through EDI, API, or another connecting technology.

Use analytics to understand your network risks and keep an eye on potential trouble spots to look for early warning signs.

Follow your shipping spending to spot and keep an eye out for unauthorised shipping costs on your accounts.

To make processes secure with less risk than conventional methods, select a secure, bank-based freight payment option.

Make sure that every team member and employee receives expert training and goes through a thorough software onboarding procedure.

Considering the global nature of shipping and transportation, data security technologies are more important than ever. Shippers must safeguard this data and the analytics that get derived from it in order to get the most value out of transportation and supply chain data.
For those that specialise in supply chain management, embracing modern technology and digitization has its perks and pitfalls. Using the most recent data protection tools can help reduce or completely eliminate the risk of cyberattacks and other dangers. In order to properly respond to the question "Why is supply chain security important?" in today's shipping and transportation industry, a thorough analysis of the state of the network and the present market is necessary.
Read more at- www.trucksuvidha.com