Truck, Trailer and Tyre Expo is the largest single-show exhibition platform for the global trucking industry
The Truck, Trailer and Tyre Expo is an exclusive event covering the Truck, Trailer , Tipper, Tanker, Reefer, Container  Tyre and OEM's Segment .  The Expo has been bringing together different Truck Manufactures, OEM's and Allied industry onto one single platform and stands as an exclusive show for the heavy vehicle industry. This is the 6th Edition of the Show that is being held in CODISSA Trade Fair Complex , Coimbatore and aims to connect the whole transport and logistic industry in the southern region.
Tamil Nadu is one of the major Automotive manufacturing hubs in India given the infrastructure and investment opportunities provided by the state government. The State has very well defined policies which has seen good investments in the state by Some of the big names in the International automobile manufacturing arena.
The Truck Trailer and Tyre Expo will be bringing in leading Truck Manufactures, Trailer Manufacturers, Tankers, Tippers, Tyre Manufactures, etc . Big Names in the Automotive industry like  Tata Motors,  Ashok Leyland , ISUZU Motors , Mahindra & Mahindra, JagdambaTrailers, Jamna Auto Industries  along with OEMs and Tyre manufacturers like Apollo , JK Tyres, Michelin , Continental along with international companies are expected to be  part of this 3 day expo  thus making it the  ideal platform to reach these big Manufactures and  other OEMs for expanding your market reach and scout for new customers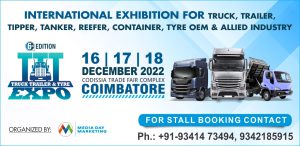 Truck Trailer & Tyre Expo has raised the bar for the industry players in terms of product offering and cost competitiveness, leaving buyers and sellers including transporters, fabricators and suppliers mightily impressed by the one-of-its-kind exhibition being held in exclusively in this sector.
The event is supported by Ministry of Road Transport Highways & Shipping ,  Ministry of Petroleum & Natural Gas, Automobile Research Association of India (ARAI), International Centre for Automotive Technology (ICAT), (Indian Rubber Manufacturers Research Association (IRMRA), and other leading bodies   and more than 17 Transport Associations across India which include All India Motor Transport Congress, All India Transporters Welfare Association, Hydraulic Trailer Owners Association, Namakkal trailer owners association, Southern region Bulk LPG Transport owners association,   Erode Lorry Owners Association, Namakkal Taluk Lorry Owners Association, Salem District Lorry Owners Association, Sankagiri Lorry Owner's Association, Tiruchengode Lorry Owners Association etc.
Many leading Automotive magazines and online platform like Truck Suvidha which assists in connecting with veried carriers, Transporters, packers and movers, industrialists, and others and helps in growing  transportation business across PAN-India are associated as Media Partners for the event.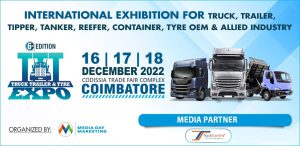 TTT is a  B2B event which will be visited by  Decision Makers and other key personnel in the Automotive sector Industry from across the country as well as from abroad. TTT stands as a unique platform to understand, discuss and tap the evolved opportunities that the segment has to offer. The visitors would include Purchase and Marketing Department personnel, Government Officials, Members of the Transport Associations, Entrepreneurs, Dealers, Distributors, Automobile workshops owners ,Truck & Trailers Body Builders, and other interest people looking to fulfill their business needs.
The event will be open to the public from 16th December 2022 at 10:00 am onwards till 6:00 pm on 18th December 2022 and  is expected to see more than 100 Exhibitors and 8000 to 10000 visitors .
Thus, the TTT Expo 2022 will offer participants an opportunity to get acquainted with the latest trends, as well as create conditions to expand cooperation and establish new business relationships that will boost investment and introduce new technologies in the Automobile sector of India. Since the event is exclusively on the Trucks Trailers Tyre and Allied Industry, the event would help organizations  reach their goal of connecting with the right buyers for business expansion and brand name creation.
For more information please contact Mr Kashif Raza on +91-9342185915 or mail on info@mediaday.co.in