Top 5 Highlights Of Tata Intra V20 Bi-Fuel Truck
Here are the top 5 highlights of the Tata Intra V20 Bi-fuel truck, explaining why it could be the ideal choice for operators aiming for business growth.
Tata Motors, manufacturer of India's first bi-fuel small commercial vehicle, the Intra V20, asserts that it is a versatile haulier. Tata Motors says that the Intra V20 offers ample loading space and can run on two fuels, one fuel at a time, enabling longer operations without frequent visits to the fuel station.
According to the brand, the Intra V20 also offers a best-in-class turning circle radius (TCR) of 5.25 m and can be deployed on congested city roads in spite of a 2690 mm (8.8ft)-long load body. Due to such characteristics, the Tata Intra V20 seems like the right choice for operators and fleet owners. 
Nonetheless, there are many more aspects that should make the Tata Intra V20 an ideal choice for operators, and here are a few of them:
Decent Powertrain Performance:
The Tata Intra V20 truck features a 1.2-litre 3-cylinder bi-fuel engine providing adequate performance. In petrol mode, it produces 57.6hp at 4000rpm and 106Nm at 1800-2200rpm, while in CNG mode, it delivers 52.3hp at 4000rpm and 95Nm at 1800-2200rpm, paired with a 5-speed gearbox.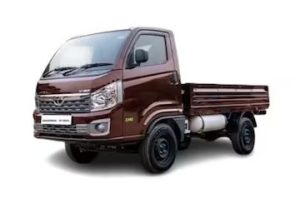 Sufficient Features: 
The Tata Intra V20 comes with sufficient features for a better user experience. These include an ergonomic steering wheel, dashboard-mounted gear lever for a walk-through cabin, electric power-assisted steering, comfortable seats and a leak detection feature that ensures that the vehicle switches from CNG petrol automatically in case of a gas leak.
Apart from these, the vehicle is equipped with a smartly positioned fire extinguisher, a gear shift advisor and telematics which helps in geo-fencing, location tracking and vehicle performance tracking.
Better Safety:
Tata Motors claims that the Intra V20 is a truck that prioritizes safety. Featuring three-point seat belts, 165 R14 LT 8PR-sized robust tyres capable of carrying moderately heavy loads, and a leak detection feature that switches from CNG to petrol mode automatically in case of a gas leak, this Tata truck seems like it's a safe bet for operators wanting higher safety.
More Space:
The 2265kg gross vehicle weight (GVW) Tata Intra V20 offers an adequate cabin and load body space. The vehicle has a 2690 mm (8.8 ft) x 1620 mm (5.3 ft) x 300 mm (1 ft) (LxBxH) cargo box body to carry payloads of up to 1000kg and has a wheelbase of 2450mm for carrying bigger loads.
Affordable Pricing:
The Intra V20 from Tata Motors comes at a starting price of Rs 8.50 lakh with a 2-year or 72,000km warranty (whichever comes first), and thus seems like an ideal choice for operators planning to improve profit outcomes through longer operations.
Our Verdict:
The Tata Intra V20 Bi-fuel truck with its 28 percent (CNG Mode) and 30 percent (Petrol Mode) gradeability, should ideally improve fleet operations and deliver exceptional operational ability for fleet owners planning for positive business outcomes. Being a bi-fuel truck, it should improve range for longer trips.
Read more at-https://shorturl.at/mGKO3