Making the Transition to an Artificial Intelligence Supply Chain
Artificial intelligence (AI) has grown in popularity in the supply chain business in recent years. From forecasting and inventory management to transportation and logistics, AI technology is revolutionising how firms manage their supply chain operations. As firms continue to integrate artificial intelligence into their supply chain operations, it is critical to understand the impact on the industry and how we can adapt to this new era of technology.
What is an Artificial Intelligence Supply Chain?
An artificial intelligence supply chain is a system that optimises supply chain operations by utilising AI technology. AI systems are programmed to analyse massive volumes of data and deliver insights. As a result, these insights assist firms in making sound decisions about their supply chain operations. As a result, AI technology is being utilised to automate a variety of operations, including inventory management, demand forecasting, and logistics planning.
How Artificial Intelligence can Help a Supply Chain?
The transportation business is critical to the supply chain, and artificial intelligence (AI) technology can be utilised to optimise transportation operations. Here are some ways AI can benefit the transportation and supply chain industries:
Predictive maintenance: Artificial intelligence can assist transportation businesses in predicting when vehicles will require maintenance or repairs. This allows them to plan maintenance before a failure occurs.
Route optimisation: AI can also assist transportation companies in optimising their delivery routes. As a result, gasoline costs are reduced and delivery times are improved.
Real-time tracking: AI can track shipments in real time. As a result, transport companies will be able to constantly track the position of their assets.
Demand forecasting: Artificial intelligence can assist transportation companies in projecting demand for their services. This enables them to adapt their operations to changing consumer or seasonal requirements.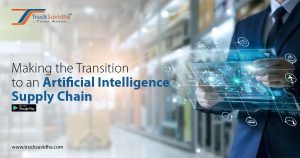 Adapting to Artificial Intelligence in the Supply Chain
Furthermore, implementing AI in the supply chain necessitates organisations adjusting their operations and adapting to new technology. Here are some examples of how firms might adapt to AI in the supply chain:
Employee upskilling: As AI technology becomes more ubiquitous in the supply chain industry, businesses must invest in employee training and development. The goal is to ensure that they have the necessary abilities to work with this new technology.
Data management: In order to work properly, AI requires massive volumes of data. Companies must invest in data management systems in order to store and manage the data required for AI operations.
Accept automation: AI technology can also automate a variety of chores. As a result, firms can free up resources and focus on other vital aspects of their supply chain operations.
Develop partnerships: As AI technology evolves, businesses must collaborate with partners who can assist them in staying current on industry technologies and trends.
Conclusion
Therefore, the use of AI in the supply chain is changing how companies run their operations. Companies may optimise their supply chain processes, lower costs, and boost efficiency by using AI technology. However, organisations must modify their procedures and adopt new technologies in order to integrate AI. Businesses may successfully move to an AI supply chain and stay ahead of the competition by investing in personnel training, data management, and automation.
Visit www.trucksuvidha.com for more details.