How to Select the Best LTL Carrier: LTL Selection Guidelines
The LTL shipping industry is expanding, and experts predict that this $38 billion industry will expand even further. Shippers and small businesses are increasingly turning to shipping platforms for their logistics needs. Instead of a full truckload, it has become the less expensive option. LTL is not only less expensive, but also simpler because it eliminates the need to deal with freight brokers and third parties.
What is LTL shipping?
LTL (less than truckload) shipping is very popular among retailers and small business owners. This mode of transportation entails sharing trailer space with other shippers in order to transport your goods. If your items fall into the LTL freight class and you don't need to fill the entire truck, you can choose LTL mode with confidence.
LTL shipping is cost-effective because you only pay for the space required to locate your products. When planning LTL shipments, keep the required deadlines in mind. LTL carriers complete delivery multiple times, which can take a little longer at times.
How do I choose an LTL carrier?
Even if you obtain LTL rates online, there are two parties involved in the shipping process: shippers and LTL carriers. Essentially, you want to ensure cost-effectiveness as well as a smooth shipping process. That is why, for a better shipping experience, it is critical to select a good LTL carrier.
Choosing the best LTL carrier can be difficult. Shippers are frequently drawn to low rates and overlook all of the other factors that shape the LTL carrier image. Some carriers may be better suited to your shipping needs than others. After comparing freight rates from various LTL carriers, it's time to choose yours. Here are some factors to consider when looking for the best LTL carrier to work with:
Geographic reach
Knowing the service region of your LTL carriers will assist you in determining the best option for your shipment. Regional carriers often have more freight on the trailer, lowering shipping costs. It is also necessary to plan ahead of time because many carriers only offer direct collection and delivery within their service area. Extra mileage frequently result in further fees. It will help you choose the right carrier if you become familiar with the shipment route.
Transit time
Transportation speed is a critical consideration whether you are sending or receiving goods. As a result, ensure that the transit times are as stated. If your LTL carrier conducts long hauls, it will most certainly take longer than a regional carrier to deliver the shipment. Shipping time can be actually calculated with advanced planning and scheduling to avoid potential delays and disruptions.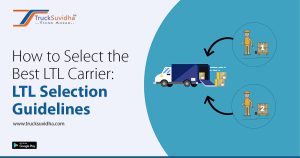 Shipment tracking 
Reliable LTL carriers must notify you of your shipment's location and discuss any route changes or delays. Additionally, some carriers provide online tracking, so make sure to check to see if this is an option. One of the most important technical considerations is shipment tracking. Notifying customers of the shipment's location and projected delivery time improves their overall experience.
Liability for goods
Every goods carrier provides a specified level of goods liability insurance. Most of the time, this obligation will not cover the declared worth of your cargo in the event of damage. That is why shipping companies advise customers to purchase full-coverage goods insurance. Understanding the level of liability is critical for the safety of your shipment. 
Consumer service
Fundamentally, you anticipate receiving good service. Check to see if your carrier gives updates, delivers on schedule, tells customers of any problems, and so on. Knowing this ahead of time will save you time, money, and patience. Furthermore, many purchasers contact customer support to acquire answers to a variety of questions. Be certain that you can give the finest client experience and match the expectations of your target audience.
Additional services
Many shippers schedule a cargo due of the inexpensive rate and then wind up paying significantly more for hidden services. Notify your LTL carrier if your goods has specific handling requirements, requires interior delivery, or is delivering to a restricted region. This will not only save you money, but it will also help you create a stronger connection with the carrier. As a result, you'll begin to construct a solid supply chain and a network of reliable carriers.
Are you ready to put your new LTL quotation knowledge to use? There is no better time to begin than right now.
Just enter your cargo data into our online form to receive a fully free LTL freight quote.
Read more at- www.trucksuvidha.com