G20 Summit 2023: Traffic restrictions imposed in Delhi from September 7-10
Delhi issues traffic restrictions for G20 Summit from Sept 9-10. Only authorized vehicles allowed in certain areas.
Delhi government issued a gazette notification on September 5 detailing traffic restrictions in the national capital ahead of the upcoming G20 Summit which is scheduled to take place on September 9 and 10.
According to the notification, vehicles including goods vehicles, commercial vehicles, interstate buses, and local city buses, will not be allowed to operate on Mathura Road (beyond Ashram Chowk), Bhairon Road, Purana Quila Road, and inside Pragati Maidan Tunnel from midnight on September 7 until 11:59 PM on September 10.
"Heavy Goods Vehicles (HGVs), Medium Goods Vehicles (MGVs), and Light Goods Vehicles (LGVs) will not be allowed to enter Delhi from 21:00 hours on 07.09.2023 to 23:59 hours on 10.09.2023," the notification read.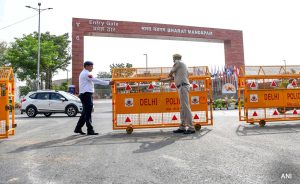 However, goods vehicles transporting essential commodities such as milk, vegetables, fruits, medical supplies, and others with valid 'No Entry Permissions' will be permitted to enter Delhi.
In addition, the entire area of New Delhi District will be designated as "Controlled Zone-I" from 5 AM on September 8 until 11:59 PM on September 10. The area inside Ring Road (Mahatma Gandhi Marg) will be considered a "Regulated Zone" during the same period.
Only authorized residents, emergency vehicles, vehicles traveling to the Airport, Old Delhi, and New Delhi Railway Stations, as well as other authorized vehicles, will be allowed to use the road network in the New Delhi District during these hours. No TSR (three-wheeled shared taxi) and taxi services will be permitted to enter or operate within the New Delhi District from 5 AM on September 9 until 11:59 PM on September 10.
However, all types of commercial vehicles, including buses already present in Delhi, will be permitted to travel on Ring Road and the road network beyond Ring Road towards the borders of Delhi.
India is gearing up to host the G20 Summit in New Delhi from September 9 to 10, and world leaders are expected to attend. The summit will take place at the state-of-the-art Bharat Mandapam Convention Centre at Pragati Maidan, New Delhi.
Read more at-https://shorturl.at/efG67