Roads Minister Nitin Gadkari unveils his national electric highways dream, with pilot runs due to start shortly
Trolleybuses plying on the Delhi-Jaipur Highway and the Ring Road in Nagpur will soon be run utilising overhead cabling, with a proposal to gradually extend this to freight trucks for a marked reduction in logistics cost.
A significant amount of groundwork has already been completed in this regard, including a presentation by the Tata group
The Ministry of Road Transport & Highways is looking at implementing it in the built, operate, transfer (BOT) mode
Disdain for rules continues to remain the primary cause behind the high incidents of fatalities in road accidents
If Nitin Jairam Gadkari, India's Minister for Road Transport & Highways has his way, the country's national highways will be turning electric in the near future.
Speaking at Business Today's India @ 100: Achieving Global leadership Gadkari – widely regarded as one of the best performers in Prime Minister Narendra Modi's cabinet – said work had already started in this regard.
We have just completed a significant amount of work, including a presentation by the Tata group. We propose to install [overhead] electric cables like the ones on a railway line on the Delhi-Jaipur Highway and the Ring Road in Nagpur," he said in response to a question on road safety from Siddharth Zarabi, Managing Editor, Business Today Television.
Trolleybuses plying between Delhi and Jaipur would be run utilising the cabling and return to Delhi after going around the ring road in Jaipur, he said elaborating.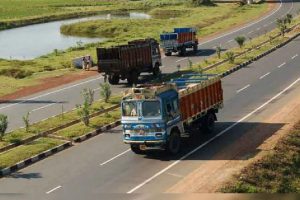 Since it is the first project of its kind, we are examining the possibility of doing this in the built, operate, transfer (BOT) model."
Gadkari said his ministry was also looking at extending the initiative to freight trucks in a bid to greatly reduce logistics costs in India, which are among the highest in the world.
"Presently, our logistics cost is 14-16 per cent. In China it is 9-10 per cent and in most European countries 12 per cent. I am confident of [reducing] it to a single digit to 9 per cent by the end of 2024."
Gadkari said this would help greatly boost the economy by making the country's export market competitive.
Disdain for rules main cause of road accidents
Expressing his concern at the high incidence of road accidents in the country, the minister cited disregard for traffic rules as the main cause behind them.
"For the last nine years, we have been trying our level best [to improve things] but this has not turned out to be a success story. We have 5 lakh [road] accidents every year and 1.5 lakh deaths, out of which 60 per cent of the deceased are in the 18-34 age group," informed Gadkari.
He said that the government was already working in key areas such as road and automobile engineering to improve things. The star-rating of automobiles had been initiated while Rs 40,000 crore had been budgeted for removing the blackspots in road engineering.
Read more at-https://shorturl.at/cwyGQ