Mumbai to Goa in 6 hours from next month? Govt plans to open one lane of expanded highway before Ganeshutsav
Synopsis
One lane of the Mumbai-Goa highway will be opened ahead of the Ganesh festival next month, according to Maharashtra Chief Minister Eknath Shinde. The 471-km, four-lane highway is set to boost tourism in lesser-known parts of the Konkan region and decrease travel time between the two cities by six hours. The full project should be completed by January 2024.
In a good news for commuters, Maharashtra Chief Minister Eknath Shinde has announced that that preparations are underway to ensure the opening of one lane on the Mumbai-Goa highway ahead of the Ganesh festival next month. As per a TOI report, one lane of the ten-year-old project to widen the Mumbai-Goa Highway (NH-66) to four lanes should be completed by the Ganpati celebration next month.
Once completed, the 471-kilometer, four-lane Goa Mumbai Highway in western India is expected to cut travel time between the two cities by around six hours. Currently, it takes nearly 12 hours to cover the distance. It is also intended to boost tourism in unknown areas of the Konkan region. The compeletion of entire highway is likely to be competed by Jaunary next year.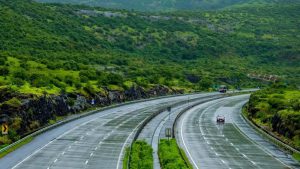 The Mumbai-Goa highway has faced criticism due to its incomplete and uneven sections, drawing ire from commuters. Many individuals from the Konkan region, who are employed in Mumbai, traditionally return to their hometowns for the Ganeshotsav celebration. Repairing and smoothening one lane of the highway before the festive period would provide some respite to those utilizing this route.
Shinde stated, "Our Minister of Public Works, Ravindra Chavan, is overseeing the initiation of work, despite the highway falling under the National Highway Authority of India. Preparations have been finalized, and we aim to make one lane of the highway motorable prior to the Ganesh festival."
Highlighting connectivity plans, Shinde said that Mumbai and Sindhudurg will also get a greenfield access-control highway like Pune-Mumbai expressway. "We are currently in the process of developing the detailed project report for this project," the chief minister confirmed.
Regarding infrastructure enhancements, Shinde reported that work is progressing on a bridge connecting the Konkan region with Satara, with proposals for two additional bridges at Tapola and Bamnoli. He also emphasized the government's focus on projects that stimulate local employment, such as cluster farming and the production of medicinal herbs.
Read more at-https://shorturl.at/KLS05