5 Supply Chain Techniques for Adapting to Changing Customer Demand
Even though it seems clear, some logistics professionals are still unaware of the profound effects that an ineffective and dysfunctional supply chain can have on every element of their organisations. Companies are employing technology and process improvements in order to attain clear supply chain excellence, which is widely acknowledged as a critical component of overall business strategy, as they work to improve their supply chain ability to compete and acquire more market share.
Unfortunately, as practically any logistics expert will attest, each unexpected shift in the marketplace has the potential to create a storm that upends supply networks. Experts in supply chain management must adapt fast to the shifting trends in order to keep the organisation moving forward.
Here are five tips to help you cope with the shifting supply chain trends and perhaps even succeed.
Use real-time demand analytics to adopt a business operating model or demand-driven strategy.
You can make sure you have the whole picture and can respond effectively to risks such as suppliers going out of business, natural disasters, and political unrest that disrupts their manufacturing process with the use of the proper planning tools and prediction. Businesses can increase margins for a highly demanded product with a small market supply by adjusting pricing strategies in response to demand and moving additional products swiftly.
Create a flexible supply chain with quick planning
To be in the best possible position to seize market opportunities, all of your executives must have a thorough awareness of the demand for and risks involved with your supply chain. Also, in order to adapt operations to shifting demand, firms must implement dynamic planning capabilities. In order to react swiftly to market developments, the new model aims for more dynamic and continuous supply chain management. With less risk and no aftershocks in the supply network as a result, there will get enhanced visibility and collaborative goal-setting.
It's also important to have good agility because it makes the market more responsive and is now simpler than ever to attain with the correct people, procedures, and technological advancements.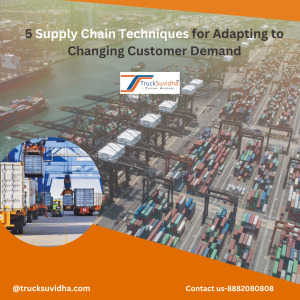 Promote product management and product optimisation for production and supply to expedite innovation
To stay ahead of the competition, innovation is continually needed, but it is not something that just happens. Because successful projects need that they develop at the right cost, time, and location, decisions are mainly made early on, sometimes even within the product development life cycle. For an end-to-end business to function, designs must get optimised for supply, and supply chain operations must be able to precisely estimate the expenses that will be alaways incurred by the company.
With effective integration of sales and operations, match your company's objectives with the supply chain.
While the sales and operations teams frequently work well together as they plan for the sales and distribution side of the supply chain, there are several disconnects and gaps between the finance, strategy, and operations departments in diverse businesses. You must incorporate the people, process, and technology components into your business planning in order to close the gap and promote success. By doing this, you can make sure that financial objectives and budgets for sales are typically established in line with an intricate, bottom-up operating strategy that will be always followed.
Look for a consistent and dependable supply
The stakeholder that interacts with customers may decide to improve service levels, whilst a manufacturer may choose to keep inventory in order to ensure that they fulfil the customer's basic service levels. These two choices might frequently be at odds with one another. Businesses may lose a lot of money as a result of supply shortages or the delivery of the incorrect goods at the incorrect location and time.
Working on strategies for operational excellence and continuous improvement lays a solid foundation for a process that supports the digital manufacturing thread throughout the end-to-end supply chain, making sure that all manufacturing operations are mainly connected and integrated with the planning processes.
The Bottom Line
The process of designing, creating, and marketing a product is challenging for even the best firms during the best of times. In order for businesses to remain competitive, they must always look for new technology, procedures, and tactics. We cannot let our guard down in this field; we must always be developing and learning new things.
Visit us- TruckSuvidha.com