How Would Digitalized Freight Matching Transform The Trucking Industry?
Stagnation is a severe issue for technology. They don't really get along with one another. As a result, when an industry gets stagnant, technology intervenes to bring about radical changes in how that industry operated and deal a fatal blow to its main rival. And the transportation sector is currently seeing just that.
The need for acceleration and reinvention, as well as the advancement of new technology, which has facilitated the creation of digital platforms that act as catalysts to the entire process, are the two driving forces behind the transformation of the trucking industry in particular and the freight logistics industry in general. Digital freight matching is the system that is driving this reform of practises and procedures across the whole sector.
What Is Digital Freight Matching and How Does It Work?
One software-based approach to some of the most enduring issues in freight logistics is digital freight matching. By offering a platform based on modern technology, it seeks to eliminate and replace the intermediaries (third-party logistics businesses and brokers) involved in the supply chain of load matching. This makes it easier to link businesses in need of truckers to move their products directly with those that offer trucking services and have extra capacity to meet their needs.
Uberization of Trucks
Via a network of apps and other digital platforms, digital freight matching attempts to match a transport vehicle's load capacity with nearby businesses searching for service providers to send their goods. It is frequently referred to as the "Uberization of freight" because this approach is pretty similar to what Uber does, which is to match up people looking for a trip with the closest cab drivers who can take them to their location.
The procedure itself is quite easy, quick, and effective. The digital freight marketplace is where the shippers post the specifics of the load that has to be delivered. Following that, the carriers post their bids for these orders on the market. The best and most practical bid is accepted by the load poster, and the successful bidder sends the truck to haul the cargo. Following the execution of the order, the platform uploads the proof of delivery along with the load information and the rate confirmation; the invoice is then paid between one and seven days later.
The benefits of using digital freight matching
The benefits of digital freight matching are found in the answers it offers to the problems that have dogged freight logistics for a very long time.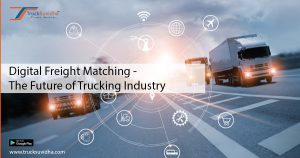 Speedy turnaround
The extremely long turnaround times of traditional goods networks are well-known. Deliveries that arrive on time are more of an exception than the rule. Through the use of digital goods exchanges, this issue is resolved. Due to the absence of middlemen, communication between businesses and transporters is swift and direct. Orders are placed considerably more quickly and all queries are immediately sorted. Digital freight exchanges let drivers claim the load as soon as it is published on the site, unlike traditional freight brokers who need to make calls and send emails to get an order. Naturally, this speeds up the entire process and reduces turnaround times.
Better Cash Flow
Since shipping invoices frequently take a long time to clear, many truckers have negative or unbalanced cash flow. Again, digital freight matching apps that provide speedy pay choices and enable drivers to obtain fuel advances are the solution to this issue. Using a smartphone camera, truckers may instantly upload "proof of delivery" confirmations, speeding up the payment process.
Enhanced Accessibility
Conventional brokers charge outrageous fees for their services. They frequently charge commission rates that are mind-boggling, and in some circumstances, they reach as high as 45% of the delivery cost every load (that is borderline outrageous!). Service providers may compete and give their customers the best deals thanks to digital freight matching. Furthermore, truckers who participate in digital freight marketplaces need less working capital than their competitors, which encourages them to offer competitive pricing.
CONCLUSION
More freight forwarding companies will use these solutions as more organisations come to understand their advantages. Every forwarder will eventually become digital as a result of widespread digitization. While some degree of digitization may be unavoidable, supply chain firms can benefit from these benefits sooner by embracing it early. The first step in modernising your supply chain is to understand what digital goods forwarding can offer.
Visit www.trucksuvidha.com for more details.