Digital Brokerage – The Sustainable Solution to Supply Chain Issues.
Tech in the trucking industry goes beyond CB radios. Much more.
The supply chain was entangled in the worst way ever as a result of the pandemic. But contemporary issues call for contemporary answers. A smart method to open up the supply chain is to implement digital brokerage. The freight sector will advance as a result of being digital, and it will be simpler for businesses to interact globally.
The epidemic has made digital supply chains essential for ensuring on-time delivery and preserving shipper-carrier relationships.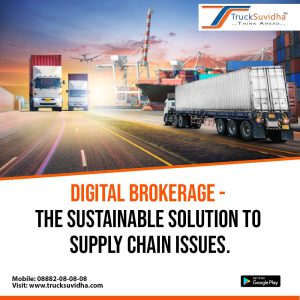 What is Digital Freight Brokerage
Truck drivers and individual businesses are linked together online by a digital freight broker, who acts as a matchmaker. In order to link businesses and trucks efficiently, they often employ an online application with pre-programmed algorithms.
Pandemic and Digital Freight Brokerage
A new class of fully digital brokers is emerging as a result of supply chain technology improvements. Thanks to the migration of transportation management systems (TMS) to the cloud, an infusion of venture financing, and the introduction of digital freight apps, the supply chain has been developing digital capabilities for years.
The pandemic exposed the vulnerability of the ecosystems supporting the supply chains. Supply chains, which are seen as the foundation of national economies, have had to be quick to adapt. The fast digitization of supply chains and delivery operations is one instance of this. The digitalization of the supply chain process has accelerated over the past few years, encompassing computing, analytics, cloud services, and tracking software, all powered by the Internet of Things (IoT). Seventy percent of manufacturing and retail businesses have launched digitization projects for their supply chains.
Fleet management technology is now being used by supply chain operators to make their operations safer and more effective. GPS is used by connected fleet management solutions to track and collect information about the movements and locations of their fleet.
It can be challenging for freight brokers to create a long-term strategy because of the unforeseen supply chain interruptions caused by the pandemic. Brokers have improved their operational visibility by implementing cloud-based TMS technologies. They are able to record all cargo information, frequently in real-time, and use that information to inform upcoming shipments and lanes. These solutions give digital freight brokers enhanced process control and increased visibility. By using digital data, brokerages can improve and streamline the strategic alliances between shippers and carriers.
Additionally, repeat freight deliveries are simplified with a digital broker. Prior to automation, placing a repeat purchase required a time-consuming process that involved speaking with your broker and obtaining quotes, among other steps. However, data and delivery information from earlier deliveries will be retained with digital software. For clients who intend to use the service again, this simplifies the procedure and makes it more effective.
Conclusion
The future of supply chain management is in digital brokerage. Truck drivers have begun and will continue to use smartphone apps with a focus on digital load tracking and freight matching for contact-free deliveries. Platforms created to match freight delivery requirements to truck availability are gaining traction, and new self-driving enterprises focusing on automated trucking are sprouting up.