Eight things the Indian logistics Industry wants its government to do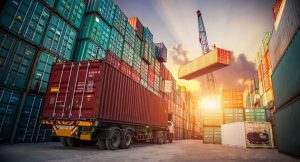 prime minister of India Narendra Modi launched the PM Gati Shakti programme, the ₹100 lakh crore national master plan for multimodal connectivity which has brought together 16 ministries including railways and roadways together for integrated planning and coordinated implementation of infrastructure connectivity projects.
Modi said, "With the resolve of Aatmnirbhar Bharat, the foundation of India for the next 25 years is being laid today.
In December 2021, The Department for Promotion of Industry and Internal Trade (DPIIT) under the Ministry of Commerce and Industry announced the launch of the Hackathon – 'LogiXtics' for the Unified Logistics Interface Platform (ULIP), which is designed to enhance efficiency and reduce the cost of logistics in India by creating a transparent, one window platform that can provide real-time information to all stakeholders.
Finance Minister Nirmala Sitharaman also mentioned the ULIP while presenting the Union Budget 2022-23. According to her it will "cut logistics cost and time, assist just-in-time inventory management, eliminate tedious documentation, provide real-time information to all stakeholders, and improve international competitiveness." Even though the National Logistics Policy is in the discussion phase, the finance minister had given an indication of its fast implementation. In April 2022, India announced the soft launch of Open Network for Digital Commerce (ONDC), an initiative "aiming at promoting open networks for all aspects of exchange of goods and services over digital or electronic networks."
It is very clear from the body language of the union government and the reforms they have put forth that it wants to bring down the logistics cost in the country and enable ease of doing business in the country thereby. However, we spoke to some of the industry experts and important stakeholders about where the government should focus next. We've got a list that ranges from drivers' welfare to gaps in implementation, from inefficiencies caused by new layers to delays in infrastructure projects, from domino effects of logistics costs to underutilisation of trucks and from the need for a national freight index to the menace of unions.
"I've been hearing about this (logistics parks) for the last seven years. Each state has its own thought process then the centre gives a direction that is where I think things are getting slower."
Yogesh Dhingra, Smartr Logistics
According to Yogesh Dhingra, founder, managing director and chief executive officer, Smartr Logistics, "India has very poor infrastructure and governance on logistics. That is the reason why our logistic cost to the overall GDP is very high as compared to the developed economies. We spend more money and have a very long lead time in the clearance of various items." He noted that the thought process behind the new reforms is in the right direction however a lot has to happen on the ground to fulfil these macro objectives.
Avoid unnecessary layers
"For example," he said, "we are developing airports but we are also putting in so many layers that increase efficiency but increase the cost as well. The airlines handle just the pilot part and all that movement of cargo is handled through a ground handling company and then the cargo comes to the cargo terminal. So there is duplication and overlap. So the airline possibly would have done that job in a faster manner. Now you have no choice but to route it via a ground handling company. And then the cargo terminals have exorbitant rates." He also complained about the delays in the development of logistics parks and has found gaps in the implementation of large infrastructure projects.
Avoid delays in infra projects
"I've been hearing this for the last seven years. Each state has its own thought process then the centre gives a direction that is where I think things are getting slower. Progressive states are moving fast, those who are not progressive are slow," he said. "Why is it that all the big guys with the huge private equity money have gone to set up their own warehouses rather than taking 50 percent of the space delivered by the government of India? So, thought is good but implementing those thoughts needs a lot of scrutinies. They (government) need to consult more. Meet the industry every quarter," he added.
"If they could also mandate the GPS tracker data onto ULIP, then we can have holistic visibility of which truck is moving from where and what load it is carrying to whether it is doing empty runs."
Vikas Singh, FreightFox
Nitish Rai, CEO and co-founder of the SaaS startup FreightFox, which recently won the ULIP LogiXtics Hackathon, opines that logistics cost in isolation is one cost and the domino it creates in the overall supply chain is another cost that we ignore. "Look at the rising inflation, look at the price points where the fresh vegetables and fruits are delivered. Everywhere there is a component of logistics which is making it more expensive compared to other factors. India has around 14 percent logistic costs against GDP, which can be divided into three portions. 6 percent is the transportation cost. 7 percent is inventory costs and 1 percent is allied management costs. If you look at the inventory cost it's the direct or indirect fallout of the poor transportation or the poor visibility in the transport," he said. "When the goods are on the road the uncertainty is the highest. So we stock up on more materials and spend on raw materials and manufacturing. But if it is not getting sold, it is not converting into cash. It is creating a liquidity crunch and a working capital domino," he added. Rai also gave an example of why the logistics cost in India is high.
Increase average speed on roads
"In India, a truck annually travels about 80,000 to 90,000 kilometres. If you compare it to that in the US it will be almost two and a half times the Indian average. If that asset is not utilised in a more frequent fashion, it is going to load cost along the chain." He also opines that the average speed on Indian roads should also go up and he believes that the planned expressways projects are a positive sign. Talking about how ULIP improves the utilisation of trucks, Vikas Singh COO and co-founder of FreightFox noted that the government is already working to get the GST data onto this platform but he also wants the GPS tracker data also available on the platform.
Get GPS tracker data onto ULIP
When we did the project, we saw how e-way bill information and Vahan APIs were readily available on the platform. In some way, if they could also mandate the GPS tracker data onto the platform, then we can have holistic visibility of which truck is moving from where, what load it is carrying, whether it is doing empty runs," he said.
"There is no regulation around how much one can charge to move freight. A unified national freight index, according to the truck type and the commodity carrying, can regulate the matter in a better fashion."
Arham Pratap Jain, Trucknetic
Talking about how Trucknetic, a trucks aggregator platform, will be leveraging the benefits of ULIP and aligning itself to that ecosystem, its founder Arham Pratap Jain gave us an example of the movement of material sourced from China, came to a western port and moved to Manesar, Gurgaon. "What happens today is first the vessel is unloaded, then the CHA (Customs House Agent) clears the document and then the importer looks for a transporter. With a single integrated platform like ULIP and the sort of information available, different stakeholders will be able to align themselves to the process and save a lot of time and money," he said. Even though Jain believes that everything that the government is doing is in the right direction, there are four issues which he wants the government to pick up. For example, he noted that there is going to be a shortage of truck drivers going forward because they don't get the recognition for what they do and nobody wants to get into that profession.
Make truck driving a sought-after profession
"Truck drivers aren't recognised as Covid warriors which they were because they were the ones doing pharmaceutical movements during lockdowns, supplying oxygen, providing groceries and FMCG so that we can stay at home and not starve. They are neglected by everybody. Nobody wants to be a driver. They do it because they are poor or they don't have many opportunities to work anywhere else. If something happens to the driver, they are not covered by anybody or don't have any insurance in place. They live a very unhealthy life and are far away from their families very often. That is one place where the government should intervene," he said. He wants the government to frame policies that can make sure that the drivers are not exploited and that the profession is one that is sought after. And of course, as the modes of transport that handle 60 to 70 percent of all logistics in the country, India can't afford to have a shortage of drivers across its large network of roads. Another issue that Jain wants the government to look into is the creation of a national freight Index because he believes there is a lot of exploitation happening and many shippers are paying a higher price.
Introduce national freight index
"There is no regulation around how much one can charge to move freight. For example, if it takes ₹1 lakh for a Mumbai to Delhi movement of materials, vendors would charge up to ₹1,35,000. So a unified national freight index, according to the truck type and the commodity carrying, can regulate the matter in a better fashion," said Jain. A "very big problem" that affects the industry is the smaller associations which are "more like unions" because they exist in the interest of a few.
Avoid unions hurting industry
These unions work against bigger industries and corporates have to succumb to their needs at times which creates a lot of problems. It is everywhere and is increasing like anything. Unions are primarily created in the interest of transporters but it works in the interest of the few who run it and everybody suffers," he said. Jain also calls for a change in the method and types of trucks manufactured for the purpose of logistics because a lot of them are inefficient and not very agile for the challenges on the ground.
Encourage unified truck types
Different commodities need different truck types. Commercial vehicle manufacturers just design the engine and the rest of the body is the fleet owners' responsibility. They often restrict themselves to certain commodities. Then they are fixated and won't be able to carry other commodities even if they want to. So a unified truck type like the flatbed with a container can reduce the logistics cost and turnaround time significantly," he said.
source code:-https://www.itln.in/logistics/eight-things-the-indian-logistics-industry-wants-its-government-to-do-1346004