EVs revolutionizing India's logistics sector
No one can deny that electric vehicles are the way of the future for transportation in India. The EV revolution has swept the globe, and in less than ten years, the global market may rise by 24.3%. One of the promising ways to decarbonize the global e-commerce and logistics business has emerged: the switch to electric mobility.
The EV sector in India is quickly becoming a major international hub for electric two-wheelers. In fact, the ICE-dependent logistics sector is already impacted by the electric vehicle revolution. A lot of major OEMs and modern startups are introducing popular LCVs in EV form.
How unexpected has the EV revolution been exactly? Imagine telling yourself five years ago that groceries will get delivered to your home in only ten minutes by EVs or that hundreds of stylish EVs would become commonplace in urban areas. That is today's reality, which is unthinkable!
Adding energy to the logistics and fast-paced e-commerce industries
The EV category has had tremendous growth and adoption, and as a result, they are now not just the future of mobility but also of the 100 smart Indian cities that are now in development. Also included in that is electrifying India's $160 billion logistics industry.
If we use clean technology, such as electric mobility, the logistics sector in India may save 10GT of CO2 and 4% of the nation's GDP by 2030, according to NITI Aayog. India's logistics industry has started embracing EV and adopting it at a faster rate than anticipated, even if much of the potential remains unexplored. Many Manufacturers are placing significant bets on technologically advanced EVs to automate their supply chain.
For instance, to make the switch to EVs swiftly, Zypp Electric teamed with Flipkart, Swiggy, and Myntra.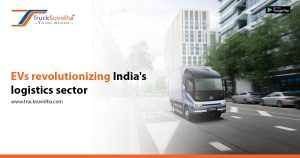 As more logistics and e-commerce businesses start converting to clean energy and vice versa, the EV market is set to develop significantly. The last-mile delivery market will be where EV sales will increase. This is because to the numerous obstacles that must be overcome in order to promote B2C adoption, including range anxiety and charging infrastructure issues. The logistics industry's adoption of EVs will give India's EV revolution the much-needed boost.
It will support the development of an innovative EV ecosystem that solves all the industry's problems as well as assist logistics firms in automating their supply chain. An key factor in the expansion of EVs in India has been the rise in the number of logistics and e-commerce enterprises making the switch to electricity.
Furthermore, the strong EV momentum has got picked up by more ecommerce platforms thanks to the Indian government's unwavering commitment to promoting EV adoption across industries. The Delhi government recently implemented a stunning policy requiring all ride aggregators and delivery service companies to utilise electric vehicles.
Shared mobility's present and future
To ensure a smooth transition to last-mile EV delivery services, the draught policy has suggested incentives. The new legislation opens up a lot of opportunity for businesses to support the conversion to EVs by logistics players. Today, if we go a little deeper into the EV market, we will discover a number of quick e-commerce, food delivery, grocery delivery, and logistic companies partnering with EV rental companies. Their goal is to utilise the EV and charging infrastructure that is now in place and growing to provide last-mile transportation services without emitting any carbon.
The future will become not only electric but also green as we move to transition dramatically from fossil fuels to all-electric transportation. We will be able to capture much of the untapped potential and bring a completely new vision of mobility into view.
Visit us – www.trucksuvidha.com