Trucksuvidha and Mahindra Truck And Bus Division Meet
Mahindra Truck and Bus, one of the leading players in heavy and commercial vehicles in India and World over. It provides an entire line of integrated trucking solution, with variants that meet the varying needs of passenger transport, cargo and specialized load applications. It is always known for its innovation, constant rise and empowering & enriching lives of people across nations.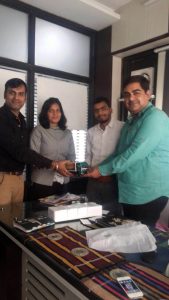 TruckSuvidha is an online portal aiming at revolutionizing the Indian transportation industry by digitalizing it and converting it to an organized sector. It provides its users the facility of online booking of truck, load board, truck board, calculating distance, load post, truck post and much more. In very short span of time, it has emerged as a very successful venture with more than 26,000 transporters and 12,000 customers connected and availing benefits with them.
Mahindra Truck and Bus with TruckSuvidha
Mahindra Truck and Bus Division of Mahindra and TruckSuvidha were on the table, on 24th October 2016, at TruckSuvidha Head Office in Yamunanagar (Haryana). In this conversation, the model and concept of TruckSuvidha was elaborated to Mahindra, which was very much appreciated.
Team members of Mahindra States:
"We have really enjoyed the conversation and learned a lot from TruckSuvidha. We appreciate your efforts and entrepreneurship spirit. TruckSuvidha is a real example of new way of thinking and the zeal & vision to drive transportation industry towards digitalization is commendable."
Mr. Amit Punaini, Co-founder of TruckSuvidha Says:
"I am very grateful to Mahindra Truck and Bus, who consider our efforts in the transportation sector and show their interest in our concept. I am deeply gratified to the gift from "Mahindra Truck"; they have offered us as a symbol of bond.
I know about Mahindra, as it's a reputed name in the commercial vehicle industry but things are quite different now. Constant up gradation in technology and their vision towards the transportation sector is admirable."
As both are working in same domain and share common beliefs of innovation and automation of transportation sector. Efforts would increase in the direction to uplift the industry and able to revert back to society. And would definitely work for the benefits of the Truck Drivers, Truck Operators, Crew Members, Individual End User/s and many more who are directly or indirectly related with the industry.
This meeting would be the milestone for the long term relationship.