Choosing the best logistics provider for your business.
The type of services you require will determine the ideal logistics supplier to successfully cover your supply chain.
When the time comes to select your company's logistics provider, begin by determining the types of services you require so you can choose the provider who delivers the best experience and, consequently, profitability.
The infrastructure of the logistics company and its control systems for logistical operations are among the factors to take into account when making your choice, but it's crucial to focus on how well their services match the demands of your organization.
Recognizing vendors based on the services they provide
You've probably encountered the abbreviation PL followed by a number ranging from 1 to 4, but what does it stand for?
Party Logistics, known by the abbreviation PL, stands for businesses that specialize in overseeing the operations that guarantee the proper performance of supply chains. 
The number that appears before the abbreviation PL describes the range of services provided by logistics providers, including transportation, storage, distribution, planning, and overall process control.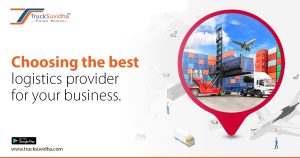 Different kinds of logistics companies:
1PL, or first-party logistics, involves exclusively managing the transportation of goods from producers to end consumers. In most cases, the company internally oversees this operation, making investments in warehouses and vehicles. When referring to a third-party service, it generally pertains to a business solely offering transportation services.
 2PL: Companies that operate warehouses and provide distribution services using their vehicles are usually referred to as 2PL. These organizations assist manufacturers in lowering their costs by preventing them from making big investments in buildings and management and by providing economies of scale by managing the logistics of multiple clients. 
3PL: A proper logistics provider manages the entire supply chain and strives for optimal efficiency of logistics operations through process optimization and economies of scale. It is also known as third-party logistics or outsourced logistics, and its functions include order fulfillment, warehouse management, cross-docking, and reverse logistics. 
4PL: A full and highly specialized service in which the logistics provider not only executes but also plans and designs the supply chain. Its tasks range from consulting to establishing initiatives to reduce costs and improve process efficiency, as well as cooperating with other service providers.
To ensure a successful relationship, the hiring business must share sensitive information about operations and strategic plans with the 4PL provider so that the logistics partner may design its activities around the company's goals.
Selecting the Best Supplier
After determining the type of supplier you require based on the services you demand, you proceed to the stage of selecting one that will assist you in increasing your profitability. It is normal to search for a supplier on the internet; however, ensure that the firm you are considering partnering with has the essential knowledge, expertise, capacity, and reach to ensure efficiency in your supply chain. Aside from the size and technology of its facilities, as well as the reach of its strategic relationships in the country and around the world, check for references from current clients and industry ratings to back up the strength of its proposition. 
To ensure the effectiveness of your logistics processes, you should confirm that the supplier meets the following requirements:
Professionalization of services: Specialisation and professional training are critical components in ensuring that the entire process runs smoothly. If a supplier has industry qualifications, it demonstrates their professionalism, care, and attention to their services. Being always up to date on industry information is another advantage to consider. 
Cutting-edge technology: The most advanced systems speed up product handling, eliminate human mistakes, and provide effective management. A significant consideration is how technologically compatible your firm is with the 3PL supplier so that you can avoid complications during the integration stage that may burden daily duties such as order documentation, visibility of purchase orders, cross-docking assistance, or inventory management. 
Customized attention: The supply chain's operations and design must consider your company's unique needs. Look for an adaptable supplier. Look for a supplier who demonstrates flexibility in their services and innovation in their solutions by adjusting to your internal procedures and meeting the aims of your organization. 
Contact ease: It is critical to maintain continuous and open contact with your supplier to address problems and capitalize on possibilities. Choose a firm that provides ongoing attention, such as a 24/7 service center that gives you constant visibility over your cargo and processes. 
Continuous improvement commitment: It is not enough for a logistics provider to provide great service when you employ its services; it must also commit to ongoing training and the adoption of industry trends to improve its services for you.
Adaptability: The ability to adjust rapidly to your company's and markets' changing logistical needs is a highly appreciated factor in today's competitive landscape. Furthermore, in an era when sustainability is a top priority, choose solutions that follow this trend. When evaluating each 3PL proposal, ensure that they share your values and feeling of duty to meet their pledge to you.
Hiring a logistics supplier necessitates analyzing your requirements and investigating the possibilities offered in the industry.
Keep in mind that the logistics company you select will become your partner in ensuring customer happiness and increasing your company's profitability and competitiveness. 
visit us – www.trucksuvidha.com