How can last mile operations in the B2B environment be made more effective?
How can last mile operations in the B2B environment be made more effective?
The transport of products from the transit stop to the final destination is referred to as last mile logistics. Customers in the business-to-business landscape are generally other business owners such as distributors, retailers, and dealers. The last mile represents the efficiency of operations and the strength of the logistics network. Last mile delivery can have an impact on a retailer's success and the strength of a distributor's network.
For various clients, different elements drive value. Providing solutions based on the demands of various consumers and making required changes to the solutions may result in a better customer experience. Better customer service can lead to repeat sales, loyal customers, and a more positive company reputation. Word of mouth can bring in new company chances after such encounters.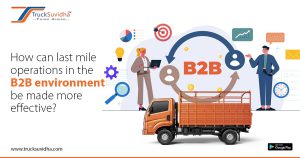 Tools for increasing last-mile efficiency
Traditional delivery techniques were meant for big volume deliveries, but they have since been reshaped to accommodate lower volume orders. With the advancement of e-commerce, supply chains are under tremendous pressure to produce deliveries as quickly as possible. Customers want B2C-like experiences, including faster and lower-volume fulfilment, even in the B2B market.
Route Selection
Technology now allows us to automatically discover and calculate the best routes for cost-effective and timely delivery. Route optimisation can help businesses avoid challenges like as driver availability, bad weather, congested roads, and a shortage of workers to assist with loading and unloading. Route optimisation considerably improves on-time delivery rates, which are critical in the B2B industry.
Furthermore, when it comes to B2B supply chains, the shortest distance does not always determine the best option. Prioritising orders and considering multiple routes are determined by the significance of the customer, the type of goods, and the distribution network.
Tracking in real time
Real-time delivery truck tracking allows B2B companies to better manage their fleets while increasing supply chain transparency. Customers can receive real-time information on the progress of their goods as well as the projected time of arrival through integrated platforms. It also saves money by streamlining and organising the delivery exception handling process.
Solutions tailored to the industry
Last mile delivery for various product categories have varying requirements. Modern supply chains are built on industry-specific solutions. Pharmaceutical, food, and beverage delivery systems may require temperature control, whereas heavy machinery may require distinct transportation techniques. Customization of distribution methods and modes may aid in providing better customer service and solutions.
Reports and analytics
Reports on observed patterns and key data points may aid in making better decisions. Analytics may help get a detailed understanding of last mile operations parameters, which can then be used to improve operational efficiency. These insights may also aid in making essential modifications to existing procedures. 
One of the hurdles to overcome in last mile delivery in the B2B landscape is timeliness. Distribution centres and retail establishments each have their own set of time frames. When it comes to last mile operations, volume is also important. To make last mile operations stronger and more efficient, new age solution providers can use tools and technology such as warehouse management systems, artificial intelligence, control towers, and so on.