What Types of Trucks and Trailers are Commonly Employed in Shipping?
Road transportation is critical in the logistics industry for connecting last-mile delivery, and trucks play a critical role in this.
Trucks serve as a link between the manufacturer and the retailer, transporting the consignment from point A to point B to the end-users. There are various types of trucks available in the market depending on the industry and type of material transported. This article will go over various types of trucks and trailers
Trailers and trucks
Because each truck has its own capabilities, the transporter must carefully select its method of transporting goods. This also affects the transporter's profit margin, so they must know which option is best for their goods.
One of the most difficult challenges in transporting goods is moving them from one location to another in a specific time frame without damaging those goods. The various types of trucks and trailers used in logistics around the world are here below.
Semi trailer trucks
This type of truck transports the vast majority of cargoes or goods. Semi trailer trucks are one of the most common types of trucks used in logistics, so you'll see them on the road a lot.
A transporter can load 24,000 kilogrammes into one of these. A semi-trailer truck can get loaded by removing the tent cover from above, from the side, or from the back.
Tail lift trucks
To load goods onto the truck, tail lift trucks use a lifting mechanism. In comparison to lorry trucks, these are relatively small in size. These can carry up to 2,000 kilogrammes. As a result, the goods can be only loaded from the back of the truck, and it is primarily used for distribution freight.
Jumbo trailer trucks
Jumbo trailer trucks resemble lorry trailer trucks. These trucks can carry 24,000 kilogrammes and have a larger capacity due to their G-shaped floor. Because of their large size, these trucks are ideal for transporting large items. And, like lorry trucks, they can get loaded from the front, the sides, or the back.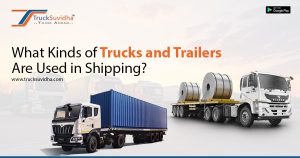 Flatbed trucks
Flatbed trucks are so named because they have an open cargo bed trailer as well as a driver's cabin. As a result, flatbed trucks lack a roof and sides. This makes it simple to load and unload goods with a crane. This truck is ideal for durable freight, such as wood, pipes, and other construction materials, among trucks and trailers. This means it can be easily loaded into the extended trailer.
Straight trucks
When it comes to small goods such as furniture, home goods, and similar freight deliveries, the straight truck, box truck, or cava truck is one of the most commonly used trucks in logistics. Many transporters prefer this option because it requires fewer licencing requirements.
Refrigerated trucks
Refrigerated trucks are baically used to transport perishable goods such as agricultural products, pharmaceutical products, or food such as vegetables and fruits. The lorry truck is the most common type of refrigerated truck. These trucks have the ability to control the internal temperature, making them suitable for the previously mentioned goods.
Mini-Van
These minivans are usually used on Indian roads for "last mile" connectivity to reach the delivery location for goods dispatch. Mini trucks are the most common vehicles on Indian roads, particularly in rural areas. These mini trucks are mainly for agricultural goods careers, shop owners to deliver goods, courier services, and the list goes on because this type of light commercial vehicle offers a multipurpose option to use.
Container Trucks
Container trucks are pre-fabricated containers used in the logistics industry to transport goods via rail, cargo ships, and trucks.
These containers are ideal for transporting goods over long distances without causing any damage to the consignments and are easily transportable on all modes of transportation.
Whichever of these trailers you need will depend on the kind of goods you have. The development and history of transportation provide a lot of knowledge about the causes and methods of each invention.
Visit www.trucksuvidha.com for more details.