Features that every fleet management software must have in 2023
In practice, numerous businesses use the word "fleet management" in their own unique ways, and many individuals use it for various purposes depending on the job they hold. The truth is that fleet management can refer to a variety of fleet operations and imply different things to different people.  We'll concentrate on fleet management software today.
Twenty years ago, the market saw the release of the first GPS devices for real-time tracking, which signalled the start of a tremendous development of fleet management software. Software is shifting from serving the business to serving their customers and clients as well. Software is vital and helps businesses offer higher levels of customer service.  When a transaction is first closed with a major client or later on when we must provide service to that client and its clients, software plays a significant role in the sales process.
What features does the upcoming Fleet Management Software need to include in light of all of this?
Flexible pricing
The amount of seasonal variation in the transportation and logistics sector can have a significant impact on the fleet's active vehicle count. Software that is effective should be able to adjust rates properly and let businesses employ only the features they require.
The idea of pressuring businesses to sign a multi-year contract is no longer viable because it is impossible to reliably forecast business for such a long period of time. Because of this, it is imperative to do away with fixed contracts and pricing flexibility.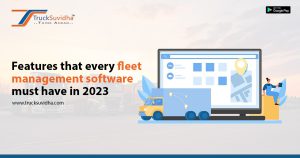 Approach to Modular Features
Because no two businesses are the same, no two businesses require the same features. Why should you pay for something you neither need nor want? Offering companies the option to choose the features they want to use or customize and charge accordingly should be a standard feature of products and services.
In order to better adapt and serve their customers, logistics and transportation companies are increasingly requesting customised features like those stated above. It's simple to please your customers when your programme offers these benefits.
Adaptive Characteristics
We can notice that many customers today are wanting unique features. They seek access to real-time vehicle data as well as information about movements of certain vehicles related to higher value loads, theft, recovery, or routing.
These specifications are becoming a requirement from the brokers, thus software must be able to meet them. You won't be able to get the contract if you can't offer this functionality and grant outside parties access to your system.
Analyses of individual drivers
Given the severe truck driver shortage that businesses are currently facing, having a detailed review of each driver's performance is increasingly essential. Knowing your drivers and their driving behaviours is crucial right now, for both financial and safety reasons.
To enhance driver performance, boost safety, and cut down on fuel costs, your software must enable the organisation to gather information about driving behaviour and apply it in a useful way. This useful information is also utilised for driver evaluations, training sessions, and other safety- and insurance-related initiatives.
GPS fleet management
The GPS fleet monitoring feature of the Fleet Management software allows your delivery team to view a delivery vehicle's precise location in real-time and compare it to the actual delivery position. To calculate costs, verify routes, and predict delivery times, businesses may easily trace the movements of their vehicles.
Equipment Fuel Logging 
Efficient fuel management is crucial for maintaining, controlling, and monitoring the storage and consumption of gasoline. The best resource utilization get ensured by equipment usage logging in a fleet management tool, which also significantly lowers costs for enterprises.
Equipment Incident Reporting 
By using a fleet management app with a strong incident reporting system, you can quickly and thoroughly record mishaps, making it easy to identify risks. Businesses may stay ahead of risks and obtain fast visibility into repairs and downtime by keeping all accident data in one location. This will help to ensure that your assets are back in operation as soon as possible and securely.
Conclusion
With a fleet management software, you can take your fleet management system with you everywhere you go in addition to managing your fleet while on the road. With the help of a fleet management software, you can simply connect with your drivers and react promptly to shifting job demands.
Visit www.trucksuvidha.com now!!