M&M to remain invested in Trucks and Bus arm, biz to deliver returns in five years: Anish Shah
The decision was taken after a thorough deliberation on the business, which the company expects will have a strategic importance in the long run. The company took an impairment charge of Rs 630 crore in Q3 on account of the Truck and Bus Division.
Mahindra & Mahindra, the country's second largest commercial vehicle maker has decided to remain invested in its bleeding Truck and Bus division which participates in highly competitive intermediate, medium and heavy commercial vehicle business in the country.
The decision was taken post a thorough analysis of the business by the top management of the company, as it was failing to meet its internal target of 15-18 percent return on equity.
In a post earnings conference, Anish Shah, MD of Mahindra & Mahindra said, the MTBD of Mahindra Truck and Bus Division has a long-term strategic importance for the company and he expects the business to start delivering returns in a five-year time frame.
"For Trucks and Buses (business), we did a lot of detailed evaluation, we finally came to the conclusion that it is a strong business, it is the one with a strong product set, which we can run and it can deliver return on capital. As we completed that assessment, we also realised that the carrying value of assets reflects what the reality was and hence we have adjusted as a one-time impairment," explained Shah.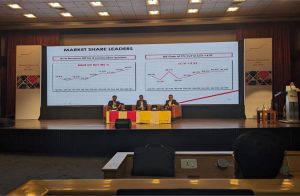 Mahindra & Mahindra took an impairment charge of Rs 630 crore on the Truck and Bus business during the Q3 earnings, which pulled down the company's profit after tax.
Shah said the Trucks and Buses business was amongst the few companies that belonged to the category C companies — majority of which were taken care off, however the Trucks and Buses business needed a review.
As part of the capital allocation plan devised at the peak of covid – Shah had categorised the group businesses under three categories. Subsidiaries which had a clear path to 18 per cent RoE (return on equity) were housed in Category A, those with delayed or unclear paths to making money but had a quantifiable strategic impact, were put in Category B and the Category C firms were housed under a cluster which had unclear paths to profitability.
In the overall commercial vehicle space, Mahindra & Mahindra is the number two player with a market share of 27 percent — but these are predominantly small commercial vehicles and pick-up trucks.
Interestingly, in the growing light commercial vehicle space, Mahindra & Mahindra is in fact largest ahead of Tata Motors as the number one player due to its pick-up trucks volumes — which interestingly is not part of the Mahindra Trucks & Bus Division.
In the April to December of FY23, Mahindra & Mahindra sold about 1.83 lakh units, but if one were to look at the models sold under its Mahindra Trucks and Bus Division – i.e. intermediate, medium and heavy commercial vehicle space, merely 6,000 to 7,000 units were sold in the current financial year with a market share of just two percent despite being in this business for a over a decade. To be sure, Mahindra Truck and Bus division sold a similar number for the entire last financial year, indicating a recovery in volumes.
Rajesh Jejurikar, ED of Mahindra & Mahindra however claims the company generates significant revenues from the business and is an important part of the commercial vehicle business for the company.
"We are seeing very good traction, some of it is coming out from industry bouncing back as well. We have also completed a full portfolio of products. We were not in the ICV segment, that is the platform that we developed more recently, we believe that will create a growth momentum. There is a good improvement in our retail volumes running into Q3. We do believe that there is a strong story to play out here with a strong product portfolio," assured Jejurikar.
During the current financial year, the sales of its intermediate commercial vehicles range under Furio brand was about 1,100 to 1,200 units, which the company feels will offer an incremental volume opportunity. The supply chain issues had also impacted the company's volumes in the buses segment in the recent past, with that being sorted, Jejurikar sees an upside on the volumes going ahead.
"Our first step will be to get to a level – you are able to turnaround the business, in the sense – bringing in viability, strong brand momentum for our products and we have taken many actions to enable them. As Anish said, we have re-examined the future of this business, we believe it is something, which is worth committing ourselves to, but there was a need to do a one-time correction of the real value of the assets that we had. We go into this business with a lot of optimism as we move ahead," reiterated Jejuirkar.
Mahindra & Mahindra had entered the medium and heavy truck segment in 2008 through a joint venture with American Truck Maker Navistar, as the business could not achieve certain stated objectives and the rising woes for Navistar back home, the US truck maker decided to pull out of the JV in 2012. At its peak, Mahindra had sold over 18,000 commercial vehicles under MTBD in FY18 and it also enjoyed a peak market share of over six to seven percent between 2017-2018.
Post the NBFC crisis and implementation of Axle load norms, the volumes have been on a consistent downhill.
Read more at-https://bit.ly/3DYIfer