What Are the Most Important Benefits of Using an Online Truck Booking Service?
The logistics industry, like many other industries, is changing as technology takes root. Advances in technology are reshaping the economy by improving customer service, efficiency, and transparency, and making operating models more collaborative.
Sending your items from one location to another has taken on a new meaning. Transportation has become much easier and safer thanks to the TruckSuvidha online truck booking service. Our truck booking platform is becoming more popular these days as a result of its multiple advantages over the old method of truck service booking.
Shippers' behavior began to evolve substantially when the option to book trucks and transportation companies online became a reality. You can now hire the vehicle that best meets your needs in a few simple clicks using online booking services. People can now book vans, cabs, and other forms of transportation vehicles online, in addition to trucks. As a result, moving businesses have found it easier to conduct business.
Truck reservations via apps and web portals are simple to use and are gaining popularity in the transportation and logistics industry due to a number of benefits that the previous method of hiring a truck lacked.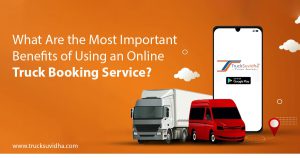 Now, consider how customers benefit from using an online truck booking service:
1) Reasonably priced: A truck booking platform gives customers instant access to a big number of transporters. You can choose one of the numerous transporters available who gives reasonable pricing when compared to others in the market.
2) Time-saving and simple to use: Online truck bookings are simple to complete. For this, you must first read the website's directions, after which clients can effectively assign their requirements. You may quickly access the list of transporters by entering the pick-up and destination locations. Both the customer and the transporter benefit from the hassle-free and time-saving nature of the process.
3) No Middlemen Required: Previously, in order to obtain the best price and on-time delivery of goods, we had to connect with a large number of transporters, which cost you middleman fees. You can now easily hire trucks without contacting any agent or transport firm by using online truck booking services. Customers can access the web portal directly and select the vehicle that best suits their material loading needs.
4) Live-Tracking: Knowing the status of your products in a typical truck booking was a huge bother. However, since the emergence of online truck booking apps, customers can simply track their transporter and know the progress of their delivery via GPS tracking. This feature gives customers more visibility and transparency, as well as ensures that goods are delivered on time and to the correct location.
5) Access to transportation records: Customers may quickly access their past truck booking records via the internet service, which includes the history, dates, kind of consignment, and other relevant information. As a result, there is no need to keep track of bills, papers, or files because you can easily access the information by logging in.
To sum it up:
Innovation and the internet have made our lives easier than they have ever been. Similarly, the online truck booking system has bridged the gap between the customer, the carrier, and other parties involved, making the entire process more practical, cost-effective, straightforward, and convenient.