Impact of Artificial Intelligence on Supply Chain
In today's connected digital environment, boosting productivity by decreasing uncertainty is the top objective across sectors. Increasing expectations of supersonic speed and efficiencies from suppliers and business partners of all types emphasize the industry's need to use the prowess of Artificial Intelligence (AI) in supply chains and logistics. Intelligent solutions, backed by artificial intelligence (AI) and machine learning, are becoming increasingly important in the movement of commodities across assets and the supply chain.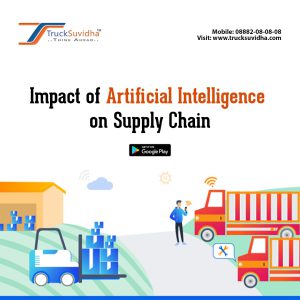 Artificial intelligence (AI)-powered supply-chain management solutions are projected to be powerful tools for assisting enterprises in addressing these difficulties. An integrated end-to-end approach may address all business functions' possibilities and constraints, from procurement to sales.
Why Does Artificial Intelligence Matter in the Supply Chain?
Supply Chain Management gains various advantages from artificial intelligence:
Data analysis and insight generate actionable business intelligence, which fuels continuous development.

The supply chain moves more quickly because of far more effective supply and demand planning, which is influenced by market conditions, consumer wants, and other environmental changes.

Logistics are improved as a result of enhanced warehouse operations and distribution.

Costs are lowered as a result of lower inventory and storage costs, faster processing of items, and faster distribution.
AI is a potential game changer because of its ability to analyze massive amounts of data, grasp relationships, provide visibility into operations, and promote smarter decision-making. Getting the most out of these solutions, however, is more than just a matter of technology; businesses must also take organizational actions to realize the full potential of AI.
Visit www.trucksuvidha.com for more details.