National logistics policy is finally here. Read why we think it's a game changer!
With 14-15% of contribution to GDP the logistics sector plays an important role in trade and economic activities in the country. It provides livelihood to more than 22 million people.
In the financial year 2021, the size of the Indian logistics market was around USD 250 billion. It is also expected that the logistics market will expand at an annual compounded growth rate of 8% over the next five years, reaching USD 330 billion by 2025. Numerous factors, including governmental reforms, innovation, technology, new market players, etc., have contributed to this expansion.
For those who don't know, the current cost of logistics and supply chains accounts for 16% of the GDP of the country. When compared to other developed countries, it is about twice as high. The main causes include fragmentation, a delayed uptake of new technologies, and the transition from unorganized to organized trade.
The Indian logistics industry was already experiencing the effects of the economic slowdown in 2019, but after being hard hit by the pandemic, it reached a new low. With a nationwide lockdown, everything halted, causing difficulties in the supply chain, a driver shortage, higher truck rental prices, etc. Despite the fact that the sector is currently dealing with pandemic-related problems, we can already see signs of its revival and much-needed transformation.
On 13th October 2021, PM GatiShakti Master Plan was launched, a transformative approach for economic growth and sustainable development. It encompasses the seven engines for economic transformation, including Railways, Roads, Ports, Waterways, Airports, Mass transport, and Logistics infrastructure.
The aim of the GatiShakti Master Plan was to build a world-class modern infrastructure and logistics synergy amongst various means of transportation for people and commodities as well as project locations. This would accelerate economic growth and development and help to boost productivity even further.
The National Logistics Policy (NLP) has been in the works for the past few years to boost the logistics industry. It was first mentioned in the Union Budget for 2020 and gained attention this year after Smt. Nirmala Sitharaman, the Finance Minister, mentioned it in the Union Budget for 2022–2023. And at last, the policy is in place.
"The soon-to-be-announced policy would define the responsibilities of the national, state, and key regulators. The NLP will also establish a single-window e-logistics market and concentrate on developing skills, employment, and competitiveness among MSMEs," said Nirmala Sitharaman
At Vigyan Bhawan in New Delhi on September 17, 2022, Prime Minister Narendra Modi unveiled the highly anticipated National Logistics Policy. The initiative intends to increase both the ease of doing business and the ease of living while lowering logistics costs nationwide.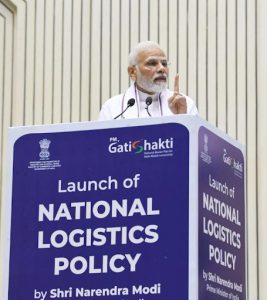 "The National Logistics Policy is a one-stop solution to speed up last-mile delivery, eliminate transportation-related problems, save manufacturers and industrialists time and money, and most significantly, minimize wastage of agricultural products due to delivery delays. This strategy will further strengthen cooperation and introduce a holistic approach across all government sectors striving to promote the nation's logistics sector," said  PM Narendra Modi
This industry comprises 20 key government agencies and 40 secondary government entities to help you understand. In addition, there are 129 inland container depots, 168 container freight terminals, 37 export promotion committees, 50 IT hubs, banks, insurance companies, 200 shipping firms, 36 logistics services, and so on.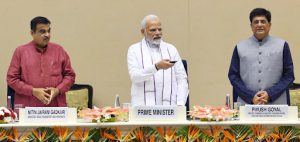 Let's look at some key highlights of the National Logistics Policy and why we think it is a game changer.
The policy intends to lower logistics costs in the nation from 14–18% of GDP to 8%, in line with international best practices.
India was ranked 44th in LPI (Logistics Policy Index) in 2018. By 2030, it is intended to rank India among the top 10 nations.
Creating data-driven Decision Support Systems (DSS) to enable an efficient logistics ecosystem.
A Unified Logistics Interface Platform will be introduced to consolidate all digital services related to the logistics and transportation sectors into a single platform. This will release exporters and producers from the current burden of drawn-out, time-consuming procedures.
A new digital platform called E-Logs (Ease of Logistic Services) will be introduced. This will enable businesses to report operational issues directly to government organizations for a quick resolution.
Although huge, the Indian logistics sector is not well-organized. Through the policy it is hoped to encourage the adoption of blockchain technology and artificial intelligence across the country and aid in structuring the megamarket.
The development of data-driven Decision Support Systems (DSS), which will help develop a robust logistical ecosystem, is one of the primary focus areas of the logistics policy.
Each state in India will have its own State Logistics Coordination Committee.
Each state's performance will be assessed annually using the Logistics Ease Across Different States (LEADS) index. The central government will offer a model for improving logistics effectiveness, allowing states to create their own logistics systems.
The policy will be implemented through a Comprehensive Logistics Action Plan (CLAP), which includes :
Integrated Digital Logistics Systems
Standardization of physical assets and benchmarking service quality standards
Logistics Human Resources Development and Capacity Building
State Engagement
EXIM (Export-Import) Logistics
Service Improvement framework
Sectoral Plan for Efficient Logistics
Facilitation of Development of Logistics Parks.
Many aspects of the policy are already up and running, and there are yearly benchmarks for each of these aspects.
"The policy has been launched and formulated with extensive consultation with the industry stakeholders and concerned ministries. So the policy document, along with the policy framework, also has a comprehensive logistics action plan. Already ULIP, the multi-modal digital connectivity platform, has been launched. We have pilot tested with the logistics service players, and now this is available. Similarly, the Ease of Logistics Policy we also created and a portal is launched. We'll shortly be registering all the industry associations, particularly logistics associations, to help them raise their issues and concerns impacting their performance, and we'll try resolving these issues," Amrit Lal Meena, Special Secretary, Ministry of Commerce.
By 2024–2025, India aims to become a $5 trillion economy. Connectivity and reliable infrastructure will become key factors in this, and the NLP gives the sector the push it needs in this regard.