SpiceJet, B Medical Systems to open pharma logistics centres at Indian airports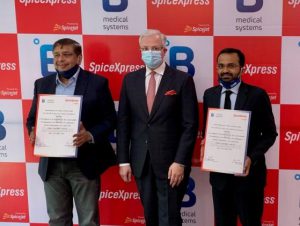 The Luxembourg-based pharma cold chain solutions provider, B Medical Systems, has announced the signing of an agreement with SpiceXpress, the cargo arm of Spicejet, to open pharma logistics centres of excellence at Indian airports to facilitate transportation of vaccines, pharma preparation and biological specimens.
B Medical Systems manufactures medical-grade vaccine refrigerators, laboratory freezers, ultra-low freezers, and transport boxes that can store and transport any vaccine in the temperature range of -86 °C to 8 °C. B Medical Systems has been working closely with governments across the world to strengthen their national vaccine cold chain for the roll-out of the Covid-19 vaccine.
Sanjiv Gupta, CEO, SpiceXpress, said, "For the first time that the cold chain industry can lease the boxes from the pharma logistics centre of excellence which will be operated by SpiceXpress. We have not only tied up with one of the world's best companies to give the best packaging solution but also a very new concept to the Indian manufacturers to save money and time while using these packets."
"B Medical Systems will provide medical-grade transport solutions to SpiceXpress for the transportation of the Covid-19 vaccine and various pharmaceutical preparations across the country. The collaboration also covers the opening of several pharma logistics centres of excellence across several airports in India," reads the B Medical Systems release.
Jean Claude Kugener, the ambassador of Luxembourg to India, said "This new cooperation will strengthen our bilateral cooperation and contribute hugely to the strong partnership between both countries that the prime minister Narendra Modi and prime minister Xavier Bettel had highlighted during their bilateral virtual summit a few months ago.''
Jesal Doshi, CEO of the B Medical Systems' India operations, said, "We are excited that our transport boxes that are also manufactured in India will contribute to efforts towards ensuring an unbroken cold chain. Our manufacturing operations in India, which was set up in an exceptional timeline of fewer than 4 months, will definitely add significant value to customers across India."
B Medical Systems has already commenced assembly operations of transport solutions in Mumbai and will commence commercial production of its own facility in Mundra to manufacture 100 percent Made in India products for the transportation of vaccines and pharmaceuticals across the country.
source: https://www.stattimes.com/news/